BRIGGS LAND
AN AMERICAN FAMILY UNDER SIEGE
Created by BRIAN WOOD
The monthly comic book launches August 17th, 2016 from Dark Horse Comics. Illustrated by Mack Chater, Tula Lotay, and Lee Loughridge.
Looking forward to this one.
Julie Doucet: pionera del cómic autobiográfico
---
Es raro que los Medios dediquen espacios a este arte híbrido y fecundo que es el cómic. Sin embargo, de vez en cuando, encontramos reportajes como este que
El Diario
dedica a la canadiense Julie Doucet, maestra inspiradora de grandes dibujantes.
Julie Doucet: pionera del cómic autobiográfico
Hace años que Julie Doucet (Canadá, 1965) ya no dibuja tebeos. Sin embargo, su influencia como autora persiste en los trabajos de figuras como Chester Brown, Marjane Satrapi, Joe Matt o Powerpaola, e incluso Michael Gondry, quienes reconocen que sus historias sobre su vida en Nueva York, sus experiencias sexuales, sus sueños, las relaciones de pareja y los gatos han sido una fuente de inspiración para sus propias carreras..[…]
@
comics+
#
cómic
#
JulieDoucet
I think you have to click "Image Comics Digital" then go through the checkout process even though it is $0.00.
Miles Morales steps up as Marvel's new Spider-Man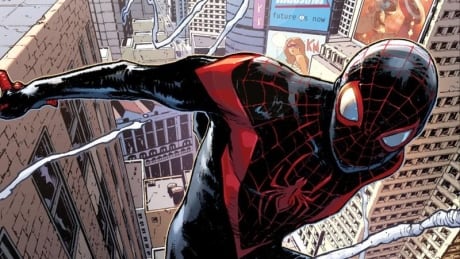 Miles Morales, the half-black, half-Hispanic Spider-Man introduced in 2011, is set to take a more prominent role in the Marvel Comics universe this fall.
In conversation with... Warren Ellis - Imperica - arts, technology, and media magazine
...your networked house works through the kindly offices of various small start-ups. What happens when the people who run your front door for you suddenly shut down overnight? What happens when the houselights get bought out by Amazon? And you have to install a new app to heat your home because Apple owns that business now? What happened to your life that you outsourced the operation of your front door to a bunch of kids in the Mission District who pay $15 for artisanal toast in the morning?
50 Best Non-Superhero Graphic Novels
---
@
comics+
Not been through this, but surely worth a bookmark for later perusal.
Drawn Out: The 50 Best Non-Superhero Graphic Novels | Rolling Stone
Disaffected hipsters, cyberpunk dystopias, cranky ducks and boy geniuses: here are the greatest comic-story collections that don't feature caped crusaders